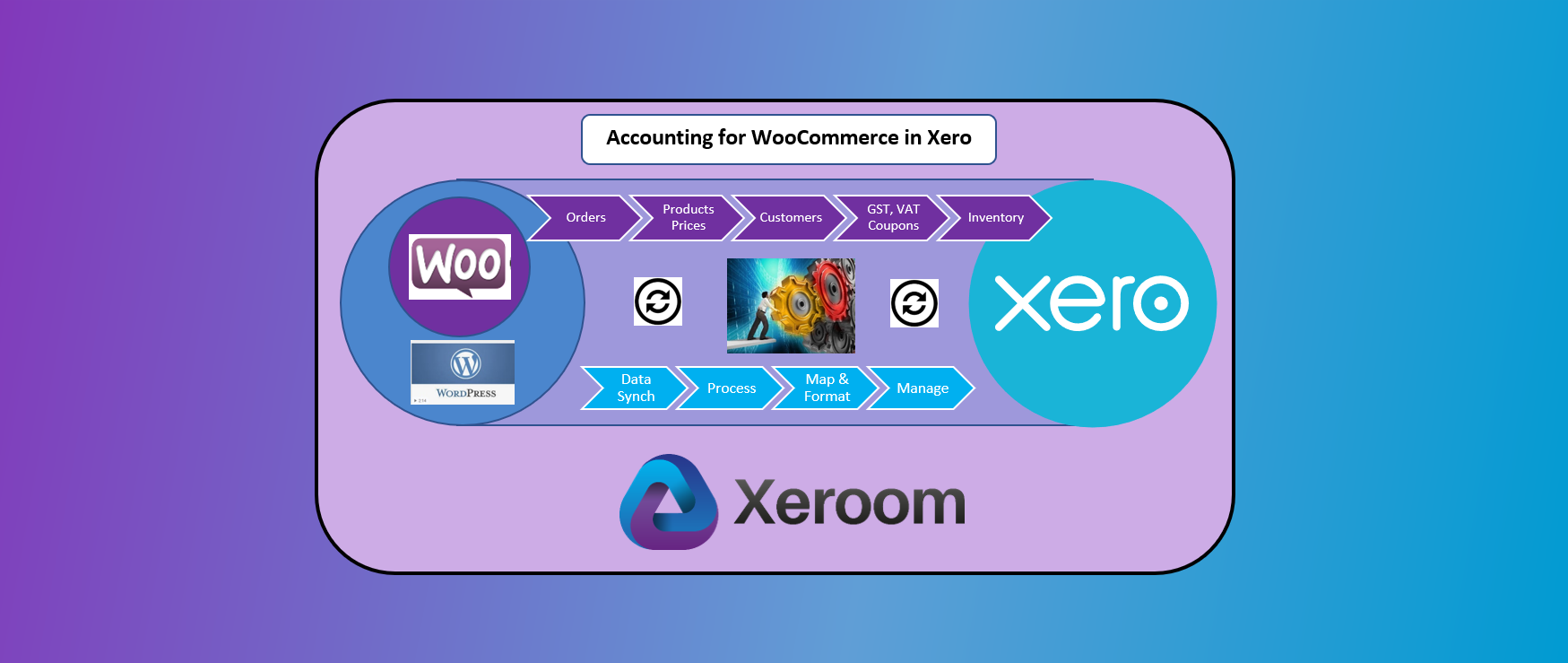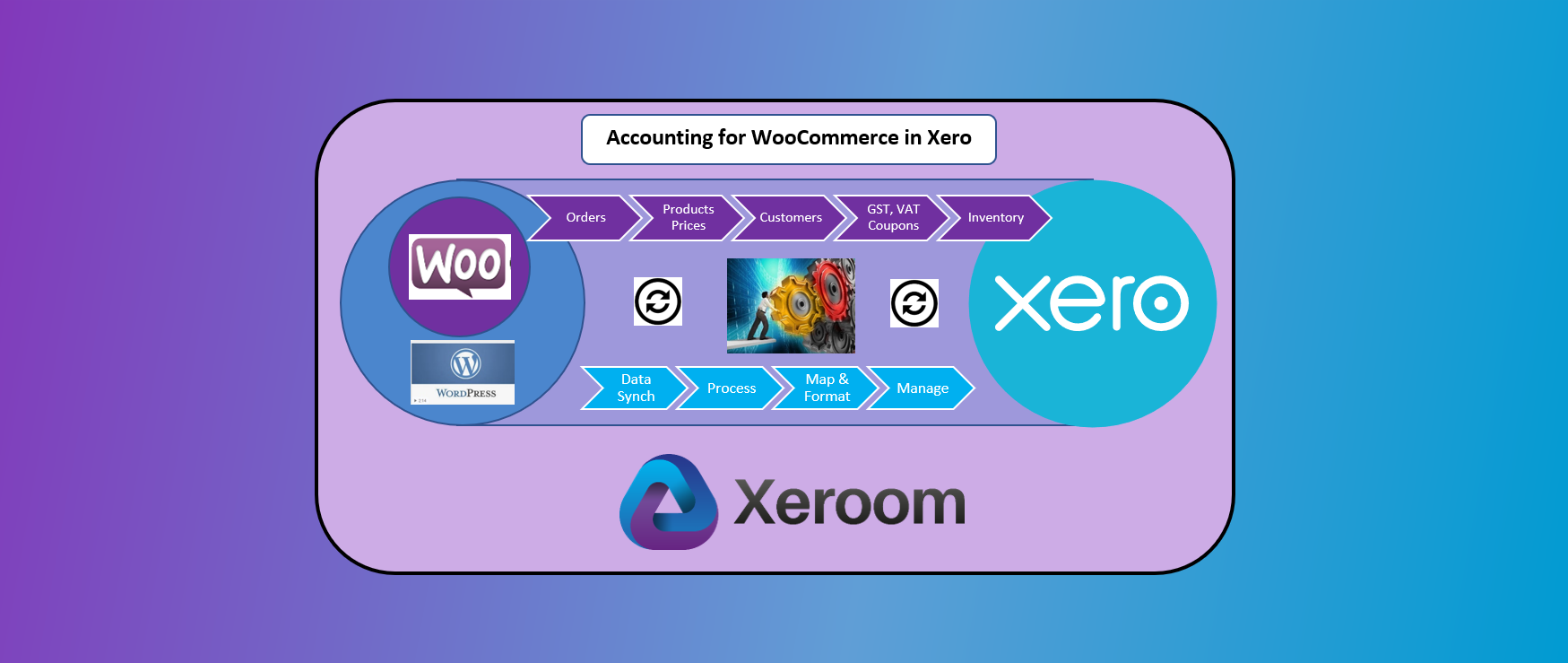 WooCommerce and Xero Accounts Integration
Add the power of Xero Accounts to your WooCommerce site
What is Xeroom?
Xeroom is a WordPress plugin that can link your WooCommerce store with your Xero accounting system to create an integrated and powerful easy-to-manage ecommerce system.
Get accurate up-to-date information
Post Orders in Real-Time
True intelligent integration of orders, customers, inventory, discounts, prices & taxes.
Automatic, seamless and powerful integration
Save Hours of Time
No need to re-enter your customer, product, tax and order data into Xero.
Why waste time fixing mistakes?
Avoid Errors
Accurate results that stop costly & unprofessional invoice and accounting errors.
Avoid stock-outs and lost sales!
Synchronise Product Inventories
Track real-time inventory across Xero and WooCommerce.
Not all plugins are the same
Xero WordPress Plugin
Xeroom is the only WordPress plugin to properly integrate WooCommerce with Xero. It provides easy management and control of the whole process to give you just want you need.
WooCommerce Accounting Integration
Xeroom is not an external complex third party platform or ETL tool that needs to be learned and managed. It is built by WooCommerce plugin developers.
Designed by Accountants
Xeroom is designed and recommended by chartered accountants and IT professionals who understand the benefits to businesses of accurate and timely management data from integrated systems with many useful features and benefits.
Intelligent Integration
Xeroom doesn't just upload a flat file of data into Xero like most of our ETL competitors do. It posts the data intelligently so that it can be easily and usefully used within Xero by bookkeepers and accountants.
10 Years of Development
Xeroom started life in CubeCart years before WooCommerce ever existed. 6 Years ago it was ported over to WordPress and has been continuously enhanced since then with many practical useful features.
Management Control
Full management of how the orders are posted into Xero. Order upload feature allow orders from other shops like eBay and Amazon to be posted in one go into Xero. Bulk uploader enables large numbers of orders to be uploaded for migrations.
Real-time Bulk Inventory Synch
All product inventory can be synched hourly between WooCommerce and Xero and vice-versa. This enables stock to be kept accurate and up-to-date both on-line and in-house for telephone orders entered outside of your website.
Xeroom delivers real value
Features & Benefits
Xeroom provides an essential WooCommerce integration that brings numberous benefits.
Unlock the Power of Xero
Xero has grown rapidly over the last 12 years to become the World's leading online accounting system. Now you can deploy this power for your business.
Save Hours of Wasted Time
Why rekey in or upload your data with slow, expensive and clumsy manual systems? Xeroom does this elegantly and automatically.
Avoid Costly Errors
Let the system do the donkey-work so you can focus your time on the real mistakes.
Understand Your Sales
Xeroom enables you to better understand when and where your sales are coming from.
Manage The Order Posting Process
Xeroom provides many useful settings for controlling how the orders are posted into Xero.
Makes Digital Tax a Breeze
The new UK digital VAT system requires you to provide access to detailed invoices.
Business Intelligence
Understand Your Business Performance
With Xeroom and Xero you can now generate some real intelligence and understanding of how your business is performing at a detailed level.
Business intelligence is no longer the preserve of the large corporations. Now that Xeroom allows Xero to be unleashed on your WooCommerce data you have a whole new world of understanding opened up to you. This gives you the power and ability to see where value is created, with which customers, which products or services and in which territories.
You can also easily see the opposite – which products, customers and markets are costing you money. You can not only understand but easily share your reports with your colleagues so you can make decisions quickly and respond to changing market conditions.
Manhours of development and testing on Xeroom
Years of development and improvements
We excel
Customer Ratings
Many manhours of effort has gone into making Xeroom the best integration plugin on the market today. See how our customers rate Xeroom
Xeroom Leads – Others follow
Who Are We?
We are a team of experienced financial IT professionals with many years experience of finance systems from samll company to large corporations. Predominantly from a Sage accounting and Oracle financials background we also have bookkeepers and a team of WordPress WooCommerce plugin experts to ensure quality coding and that the latest standards are adhered to.
Secure
All communications between your website and Xero are made in a fully encryped state under the TSL protocol using dedicated security keys created for each Xero instance.
Instant
Inventory checks and posting to Xero can be done while a customer checks out.
Accurate
Totals are checked in the created Xero invoices for rounding errors and any found are posted to a specific account to ensure consistency and integrity.
Coded to Latest WordPress Standards
Xeroom is coded by an experienced team of WooCommerce plugin developers who are leaders in the field.
Consolidation of Multiple Websites
Now you can easily bring all your webshops together into one Xero instance thus enabling consolidation of your businesses in one whole with supporting detail.
Business Intelligence
Using the Xero labels or tags enables business intelligence reports to be created in Xero. We have started with georgraphy but plan to extend that to other dimensions. So for example monthly revenues can be broken out by product categories AND geographies.
Xeroom adds value in so many ways.
High Level Features
Adding Xero to WooCommerce opens up so many possibilities to start getting real business intelligence from your system, something normally only available on large expensive platforms.
Pays for itself within weeks!
Great Value Prices
Xeroom is available on an annual licence that covers unlimited use, web-based non-urgent support and updates. It is not free as we need to cover our substantial development costs as well as provide good support.  Xeroom costs less than an hour of a average accountant's time. Buy the licence with as little or as much help as you need.
"Xeroom is excellent"
Testimonials
We have many happy customers – read what they say about us…